Music is a language of universal communication, often breaking down traditional barriers to understanding and awareness. Live music is a strong attention-getting and crowd-pleasing way to express the mood of an occasion or increase public relations.
Champaign Brass is a professional chamber music ensemble that has been active in East Central Illinois since 1986. This web site provides an idea of the kind of impact Champaign Brass can make at your next event.
| | | |
| --- | --- | --- |
| Who we are, where we are, how to contact us, and what we can contribute to your special occasion. | Weddings are a Champaign Brass specialty. Draw on our extensive expertise when planning your ceremony and reception. | Look over some of the music in our folders, ranging in style from Classical to Jazz to Holiday music. |
What's New
On Hiatus - Unfortunately, Champaign Brass is taking a break from performing. You can still see several of its members individually in musical venues throughout Illinois. We will post further news here as things change. Thank you for your continued well wishes and support.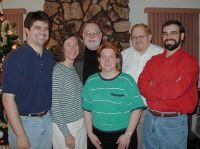 Brush With Fame - The local University of Illinois at Urbana-Champaign happens to be short on trumpet professors. The community and UIUC are very fortunate to have Ronald Romm, long time member of the Canadian Brass and world renowned trumpeter, shouldering some of this responsibility as a visiting professor. When he heard of Champaign Brass, he graciously agreed to give us a quintet lesson. We're still digesting all that transpired on that wonderful evening, but if all the autographs aren't proof enough, here's a picture of all of us after his thorough workout. Click on the image to see the full sized picture. Thanks Ron!!
Reminder - Those of you who are looking for musicians for your upcoming special occasion, contact us for ideas on music planning or a free estimate from Champaign Brass for affordable, live, professional music.