About Us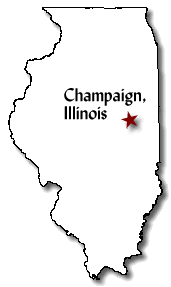 What is Champaign Brass?
Champaign Brass is a professional chamber music ensemble that has been active in East Central Illinois since 1986. Using standard brass quintet instrumentation - two trumpets, French horn, trombone and tuba - we provide music for a variety of official and social occasions, both indoors and out.
Where is Champaign Brass?
As our name indicates, the base of operations for Champaign Brass is Champaign, Illinois. We will typically play events within 100 miles from that location, with a modest per mile fee outside the cities of Champaign and Urbana. Some of the cities within that radius are: Bloomington, Springfield, Peoria, Kankakee, Danville, and Mattoon. If you are outside that radius, please inquire about special travel requests.
Why Champaign Brass?
Using live music makes your occasion special - enjoyed by everyone and remembered by all. We offer some distinct advantages over other live musical groups. Champaign Brass:
uses a minimal amount of equipment, enabling quick setups.
needs very little space - 15 feet square is enough.
does not need electrical or public address equipment.
can provide music from a variety of musical styles.
Our clients are invariably satisfied with our contribution to their occasion. Here are some of the compliments people have paid to Champaign Brass through the years.

"I only refer groups that I know will not disappoint our clients. You never have. I love the sound of brass in the gardens. They are large enough to take your wonderful full sound."
-- Tamzin Holman, Outreach Associate, Robert Allerton Park and Conference Center
"Just wanted to say thanks for making our wedding day so special. The music sounded great, especially in the Sunken Garden. It was a pleasure to do business with you guys. We will definitely keep you in mind for any future engagements."
"I would like to thank you and Champaign Brass for a truly magnificent Bach's Lunch performance. ... were all very inspired by the quintet's performance, and of the many different pieces that were performed. ... The Champaign Park District was delighted to have you as our guest and hope you enjoyed the experience as well."
"On behalf of the College of Applied Life Studies, we would like to express our appreciation for the wonderful contribution your musicians made to our ALS Convocation Ceremony. We are very happy that Champaign Brass was a part of this special day."
-- Kristi Bloom, Convocation Coordinator, and Sherry Polson, Academic Affairs Secretary
"We had our reception in a large room with 300 guests, and the brass instruments were the perfect complement of sound during the cocktail hour."
"Peggy was very helpful in selecting the appropriate musical selections for the feeling we were trying to evoke and time of year of our wedding."
"I would highly recommend Champaign Brass to anyone wanting to add class and elegance to their wedding or event."
Occasions
With such a wide variety of music from which to choose, Champaign Brass can add a special touch to any occasion:
Banquets
Press Conferences
Employee Parties
Madrigal Dinners
Grand Openings
Club/Lodge Meetings

Restaurant Promotions
Anniversaries/Reunions
Fund Raisers
Award Ceremonies
Special Sales
Graduation Exercises
Trade Shows
Tail Gate Parties
and much more!
Contact us today, or fill out the online request form, to find out how easily and affordably live music can enhance your programs.