Weddings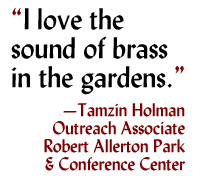 A wedding is a joyous and special time, and we are confident that you are planning to make it a memorable experience for everyone involved. Champaign Brass provides elegant and tasteful music tailored to your specific needs, so that your wedding day will hold many fond memories for you and your family.
Champaign Brass has been included in hundreds of weddings throughout the state of Illinois, many of them at outdoor venues such as Allerton Park near Monticello and the Lake of the Woods Botanical Garden in Mahomet. We are well suited for both indoor and outdoor weddings: we don't need electricity, and brass instruments are much less susceptible to summer temperature and humidity extremes than string instruments.
Wedding Music Packages
Wedding services are planned and performed as events, not on an hourly basis. Champaign Brass will contribute as little or as much music as you prefer. Typical wedding music packages will include some or all of the following.
Prelude music while guests are seated
Processional music for the wedding party
Music during the service (Hymns, Unity Candle, etc.)
Recessional music for the wedding party
Postlude music as guests are ushered out
Our wedding music page lists possible musical selections for each of these. In addition, wedding music packages also include a music planning session with a member of Champaign Brass and the wedding couple. In most cases a representative from Champaign Brass will be present at the wedding rehearsal to finalize details and instructions. Music during your reception or cocktail hour can also be provided, but that is not considered part of the wedding music package.
Planning Your Wedding
As you plan your wedding day, you will likely consult with several experts in an effort to make every aspect of the day perfect. Champaign Brass is staffed with musical experts who can work with you to help you discover the perfect music. Our wedding planning page lists some general advice for wedding planning. In addition, Champaign Brass is affiliated with several professional wedding web sites, including Bliss!, WedNet, and the following merchants:
Getting More Information
Our motto is Special Music for Special Occasions. We hope we will be invited to your special occasion. Available dates can go quickly, particularly summer dates. Fill out our online request form, or contact Champaign Brass directly by phone or email today for a free consultation, to reserve your date, and learn how affordable live music can be!