Personnel
The members of Champaign Brass perform in this venue because of their love of music. Individually, each member performs in other bands, orchestras, ensembles and in solo opportunities. Collectively, these individuals come together as Champaign Brass to further enhance their performance opportunities and to create the atmosphere for your special occasion.
In addition to the five regular members, associate members are available to draw upon to meet your specific needs. Additional instruments may be added if necessary. We even perform annually as a double-quintet. With our musical connections, we can assist you in arranging other instrumentation to fulfill specific needs.
Champaign Brass

Associate Members

Daniel Kelly - Trumpet
Faith Holley - Trumpet
Greg Grove - French horn
Jennifer Currey - French horn
Barb Ozier - French horn
Rand McFarland - Trombone
Adam Pijanowski - Tuba
Jeff Smith - Tuba
---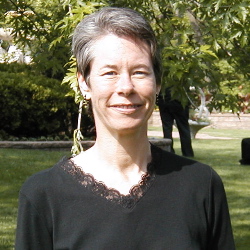 Peggy Billing has been a member of Champaign Brass since 1995 and became its owner in the fall of 2000. She brings to that role over 30 years of trumpet experience. Peggy grew up in Batavia, IL, and came to Champaign-Urbana in the fall of 1975 to attend the University of Illinois. She began studying music education, studied trumpet with Professor Ray Sasaki, performed with several U of I bands including the famed Marching Illini, and eventually received her bachelor of science degree in finance.
Peggy presently studies with Michael Ewald, head of the brass division at the prestigious U of I School of Music, and subs with the Champaign-Urbana Symphony. She is a member of Sigma Alpha Iota, The American Federation of Musicians Local 196, and the International Trumpet Guild. Peggy is very active in the C-U area musically. She has been playing in the pit orchestras for Champaign Urbana Theatre Company productions since 1997, is in the Mark Foutch Brass Band and the Parkland Community Band, and is kept busy on many Sundays and holidays by St. Patrick's Catholic Church. Peggy lives in Urbana with her husband Chris and daughters Valerie and Pamela. Both daughters play the trumpet as well, and the three of them have performed trios with the Foutch Band and the Parkland Band. Peggy feels very lucky to be a part of Champaign Brass, "a wonderful group of professional musicians."
---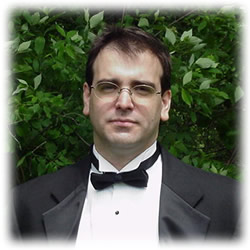 Lou D'Andria joined Champaign Brass in September of 2000. This Chicagoland native has been playing brass instruments of various shapes and sizes for over 20 years. After starting on organ, Lou focused on the trumpet throughout high school at St. Joseph in Westchester, IL. While studying Mathematics and Philosophy at the University of Illinois, Lou played in various concert ensembles including the British Brass Band. Most instrumental in honing his skills as a musician are Gene Brady, Vincent Furman, Gregory Hamot, Cody Birdwell, and Gary Smith.
Shortly after completing his M.S. in Mathematics at the U of I in May of 1994, Lou went to work at Wolfram Research, an international software company based in Champaign, IL that makes the world's only fully integrated technical computing system. He has worked in several research and developlment positions throughout the company, and currently resides in their user interface department. A member of the International Trumpet Guild, Lou claims that keeping active in the local music community and playing with his children is how he retains what's left of his sanity. He can often be heard performing with Champaign Brass' affiliated groups and in other musical venues throughout Illinois.
---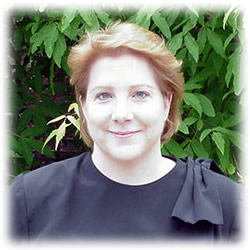 Carol Dobbs, a Champaign County native, plays French horn and is a founding member of Champaign Brass. She holds a degree in music from the University of Illinois, where she studied piano with Joel Shapiro and Tony Caramia. Carol began her professional career as a studio musician at age 16. She has done extensive studio work with world renown composer Oscar Sulley Braimah, originally from Ghana, and has assisted in many multimedia events involving computer animation, stage performance, video and musical performance. Carol lists her mother and father, a music teacher and a professional musician respectively, among her biggest influences.
Outside of Champaign Brass, Carol stays musically active by playing for countless local events. When not performing on French horn or piano, she enjoys learning to play many different instruments. Her latest foray is into a local professional handbell choir directed by Greg Grove. Carol is also recognized for her work as an elementary music teacher, a pianist at the former Sunshine Dinner Theater, and a vocalist in a rock band. In all these venues, Carol invariably demonstrates her passion for live music and encourages others to do the same.
---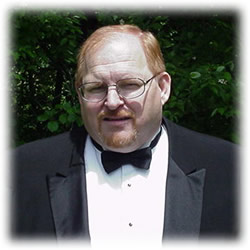 Charles Specht has been the trombonist with Champaign Brass since 1988. Charlie grew up in the Farmersville, IL area graduating from Raymond-Lincolnwood High School at Raymond, IL. He has Bachelor of Science and Master of Education degrees from the University of Illinois where he participated in the band program and the Marching Illini under Everett Kissinger. Russell Pence, Jerry Hart, Robert Jones and Darrell Cannedy were his grade school and high school music teachers. He is the proud father of three grown children - Mark, David, and Jill.
Charlie is a member of the International Trombone Association and the American Federation of Musicians Local 196. He regularly participates in the pit orchestra at the Champaign Urbana Theater Company and Parkland College. The Foutch Band and the Parkland College Community Band are also regularly on his schedule. Charlie has been employed with Rural Development, a lending agency with the U.S. Department of Agriculture, as a loan officer for 31 years. He enjoys collecting matchcovers and is President of the Rathkamp Matchcover Society. 200,000+ matchcovers make up his collection that continues to grow thanks to his friends.
---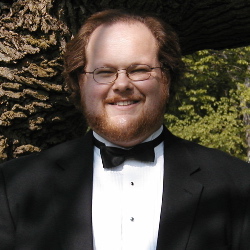 Jerry Shelato, tuba. Bio coming soon.